The 1661 Inn
5 Spring Street, Block Island
(401)-466-2421 or (800)-626-4773
Hotel Week Rate: $200/ Night

Taking in the spectacular ocean view of the Atlantic Ocean, one can't help but feel that this is what vacation should be. These nine spacious and elegant rooms, named after Block Island's founding families, are filled with an eclectic blend of antiques and feature a combination of ocean views, decks and whirlpool tubs. All nine rooms are non-smoking and feature private baths, air-conditioning, television, small refrigerators and wi-fi. Children of all ages are welcome, and The 1661 Inn is open year-round. 
Discover Block Island's unspoiled beaches, 200 foot cliffs, freshwater ponds and lush rolling hills under a quilt of wildflowers, described by The Nature Conservancy as "one of the last 12 great places in the Western Hemisphere." Block Island is miles away from ordinary, and the historic 1661 Inn is no exception. An intimate collection of 73 rooms and suites spread over nine distinct properties in a resort-like environment, you will find comfort, relaxation, and friendly hosts working to ensure that your stay is as memorable as Block Island itself.  Owned & operated by the Abrams & Draper families since 1970.
Don't miss our Farm & Aviary, located across the street from The 1661 Inn.  It is home to a menagerie of animals including camels, llamas, pygmy and fainting goats, black swans, a yak, a zebu, lemurs, red kangaroos and more.  The farm is open year-round during day light hours for kids and kids at heart to enjoy.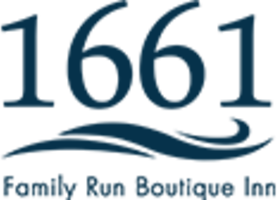 Hotel Week Rate:
$200/ night
Room Type:
Ocean view w/ private bath
Package Details:
Champagne buffet breakfast (8a-10a), afternoon wine and nibbles (4p-5p)
Promo Code:
RI Hotel Week