The Old Court Bed and Breakfast
144 Benefit Street, Providence
(401)-751-2002
Hotel Week Rate: $100/ Night

The Old Court is ideally situated for anyone visiting Providence. A three-minute walk puts you in the center of downtown Providence or in the middle of the campuses of Brown University and Rhode Island School of Design. The Old Court was built in 1863 by Alpheus Morse. Originally a rectory, it sits next to the historic Rhode Island Courthouse, which currently houses the Rhode Island Historical Preservation Commission. Italianate in design, the Old Court reflects early Victorian styles including the passion for ornate Italian mantlepieces, plaster mouldings, and twelve foot ceilings.
Breakfast is served every morning in a beautiful dining room on the first floor. You can enjoy croissants with butter, pastry, juice and a full home made breakfast as you sit in the midst of elegant surroundings.
Filled with antique furniture, chandeliers and memorabilia from the nineteenth century, the Old Court Bed & Breakfast is a refreshing reminder of the sophisticated styles of a century past. Let us make your visit to Providence an enjoyable experience. Each of our ten rooms have been carefully designed to reflect period tastes. Ranging from the ornateness of Rococo Revival to the intricacy of Eastlake refinement, the Old Court encompasses the best of nineteenth century decors. (Unfortunately, we are not ADA compliant.) In rooms overlooking the Capitol and Downtown Providence you'll feel as if you've entered a more gracious era.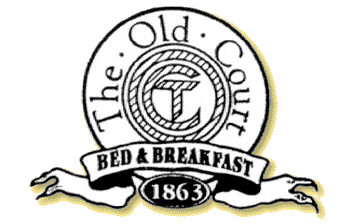 Hotel Week Rate:
$100/ night
Room Type:
Any room + tax
Package Details:
Free parking, WiFi and full breakfast.
Promo Code: 
RI Hotel Week
Or email reserve@oldcourt.com