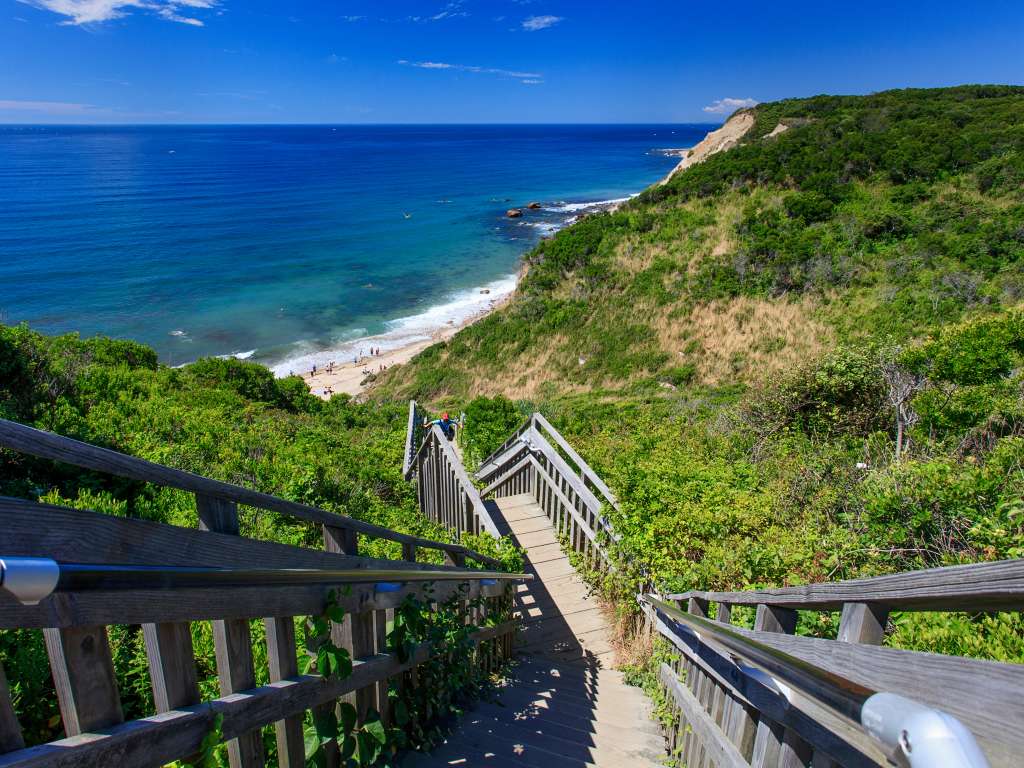 Mohegan Bluffs
Only a half hour ferry ride from the mainland, Block Island offers the state's premier island lifestyle. This pork chop-shaped destination is an ideal weekend (or longer) getaway for anyone who's looking to spend their time eating good seafood, enjoying the fresh air and/or searching for the perfect memento. And there are a variety of hotels and inns on the island, so you can relax and spend one night or more in pure island bliss!
Shopping
Get: Block Island-themed clothing, glassware, jewelry and more from Block Island Trading Company; beachy fashions and accessories from DiamondBlue Surf Shop; a comfy, coastal-inspired sweatshirt from the Salty Dog; classic, bestseller and indie novels from Island Bound; unique stone jewelry designs from Blvck Market; gifts for both pets and their humans from Islandog; natural bath and body products from Island Mist; and handmade artisan yarns from North Light Fibers.
Dining
Try: A stack of strawberry cream-filled pancakes at Bethany's Airport Diner; your favorite lobster dish (the menu features thirteen different options) at Ballard's Beach Resort; some Barbacoa tacos and a local brew at Mohegan Restaurant and Bar; take in breath-taking ocean views from the iconic front porch while enjoying a seafood dinner at the National Hotel Tap & Grille; a salumi board at the Barn at the Spring House Hotel; breakfast specials with gorgeous views at Ernie's Old Harbor Restaurant; pulled pork mac n' cheese at the Poor People's Pub; or experience the eclectic South East Asia inspired menu and unique cocktails at TigerFish.
Activities
Do: Explore the island with a rental from Island Moped and Bike; take to the sky with Block Island Parasail and Water Sports; take in the unbeatable views surrounding the Mohegan Bluffs; enjoy some fun in the sun at any one of the island's fantastic beaches, including Ballard's Beach, Mansion Beach and/or Fred Benson Town Beach; stop by and appreciate the artwork on display at the Spring Street Gallery; admire the architectural gem that is Southeast Light.
Stay
Reserve a stay at the iconic Spring House Hotel and enjoy spectacular harbor and ocean views, elegant dining and drinks on the rolling lawn. Perched high on a hill overlooking the ocean since 1852, the Spring House is a Block Island classic. Or check out the Block Island Beach House for vintage-inspired rooms and direct access to surf & sand. The Darius Inn is across from Crescent Beach and is walking distance to shops, ferries and dining and offers some pet-friendly rooms. And the 1661 Inn is kid-friendly and has spacious rooms and ocean views with an onsite farm & aviary featuring a menagerie of interesting animals.