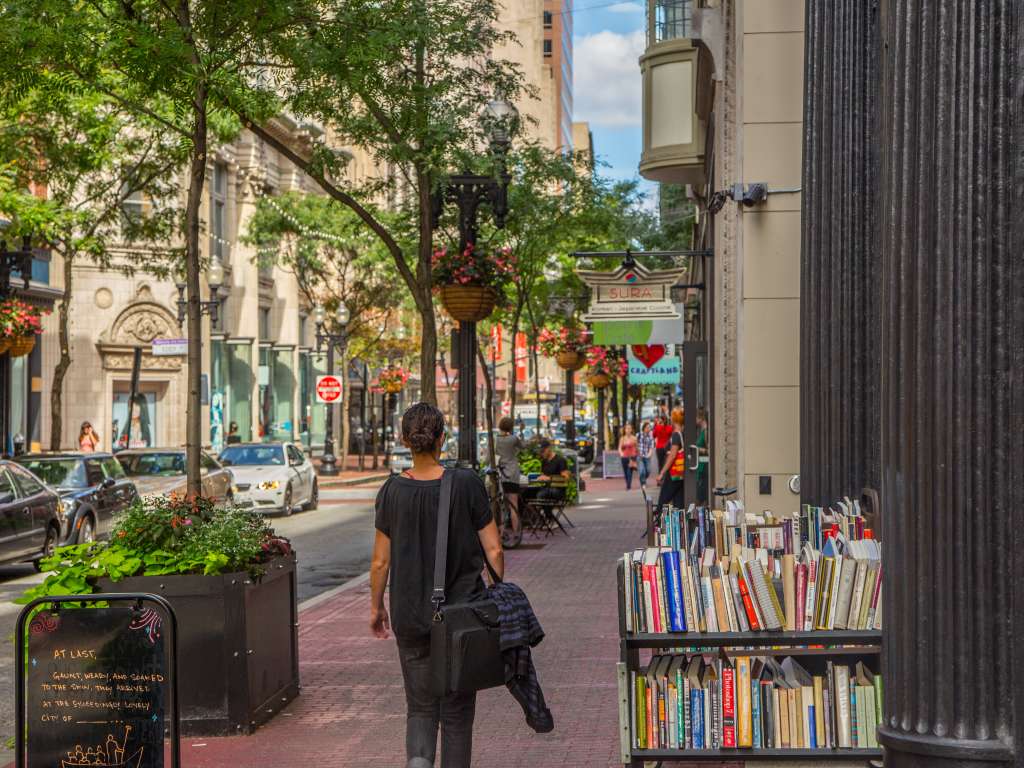 Westminster Street
Right in the heart of downtown Providence, Westminster is a charismatic, brick-lined metropolitan street bedecked in trees and string lights.

SHOP: An historic district in and of itself, Westminster Street also lays claim to the Arcade — the nation's oldest indoor shopping mall. Just past the structure's granite steps and beautiful Greek Revival columns, you'll find the center atrium as well as unique and fun shops like Lovecraft Arts & Sciences Council (open Thursday-Saturday, 12-5 PM) and Franklin Rogers. Just beyond are Craftland, for unique handmade gifts and the sleek fashion-forward Queen of Hearts/Modern Love.  For more ways to shop like a local, check out ShopLocalRhodeIsland.com. 
EAT: The Arcade is lined with a number of bustling eateries like Livi's Pockets and Rogue Island Local Kitchen and Bar and it borders local city-dweller favorites like Small Point Cafe, Kleos, Providence Coal-Fired Pizza, the Malted Barley, and Sin Bakery Stop by nearby Trinity Brewhouse to sample their award-winning beer and classic pub food, situated in the heart of the city and within walking distance of all major venues and hotels.
DO: Nearby attractions include Roger Williams Park Zoo, the Comedy Connection, and tours like the Discover Providence Tour and Rhode Island in a Day Tour by Experience Rhode Island Tours. 
STAY: Enjoy old-world elegance at Hotel Providence, the stylish and new Aloft Providence Downtown with rooftop bar and entertainment or the newest luxury boutique hotel, The Beatrice to be in the heart of the capital city.