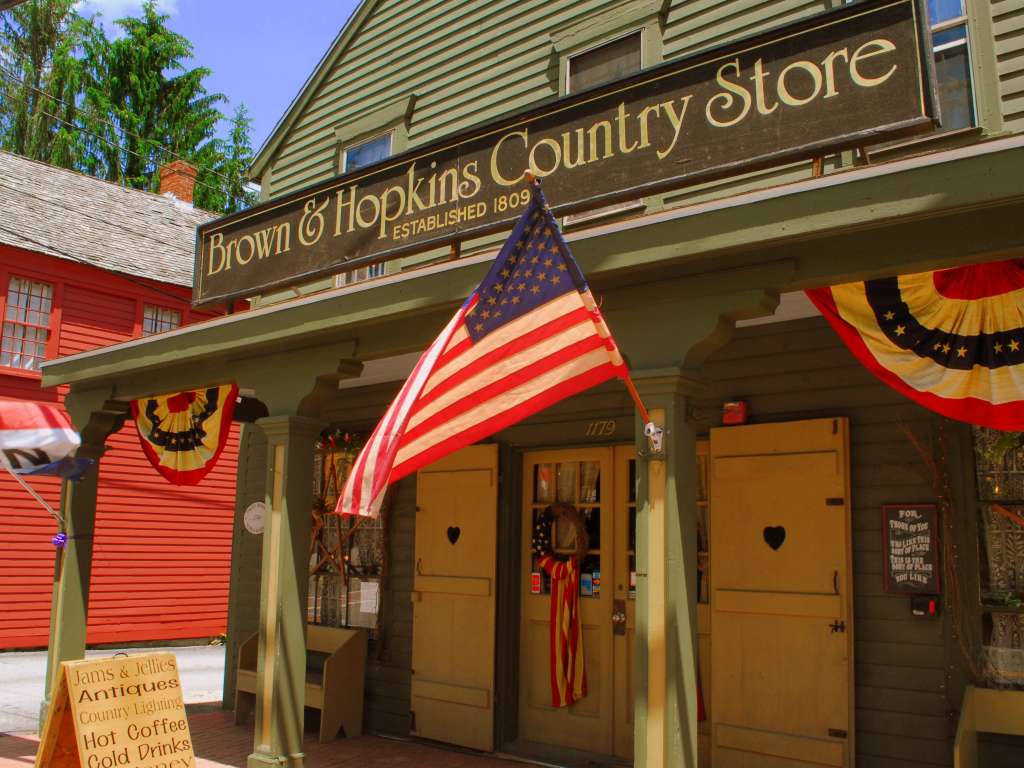 Chepachet Village
Chepachet Village is rural trimmings at its finest. In 1971, this quaint tucked away village was the first in Rhode Island to be placed on the National Register of Historic Places. Today, Chepachet boasts a thriving business community including working farmsteads, antique shops, and seasonal shops, all of which harken back to its rustic roots.
Shopping
Get: Antique fixtures and toys from the Town Trader (a former 1690's trading post); country wares, handcrafted furnishings, and authentic penny candy from Brown and Hopkins Country Store; estate jewelry, Star Wars merchandise, and primitives from the Old Post Office Antiques; vintage decor (think everything from traditional clocks to taxidermy) from Old Stone Mill Antiques and Treasures; locally made pottery and windows from Sideways Down Antiques Gallery; designer dog bandanas, collars and more from Trish Hampton; and local honey and farm goods from Lightning Ridge Farm. Swing by Mapleville Farm (open weekends) and take advantage of their curbside pickup to grab some yummy baked goods. For more ways to shop like a local, check out ShopLocalRhodeIsland.com. 
Dining
Try: A Route 44 wrap at Cady's Tavern; some hearty cooking and some mind-blowing seafood entrees at The Gentlemen Farmer Restaurant; the 'Cheapachet' breakfast plate (including two eggs, home fries and your choice of meat for just $3.99) at the Village Bean; a Greek-style pizza at Aegean Pizza; or some good old fashioned pizza strips at DePetrillo's.
Activities
Do: Enjoy a picnic or a hike in the fresh summer air at Pulaski State Park and Recreational Area or Buck Hill Management Area. Get in touch with the area's agricultural origins at Deep Roots Farm (open Friday and Saturday) and Chepachet Farms and Sugar House (reopening in mid to late February) and spend an afternoon tasting various delicious wines at Mulberry Vineyards (open Saturday and Sunday).
Stay
Stay nearby at the Holiday Inn Express and Suites Smithfield-Providence or the Home2Suites by Hilton Smithfield, both feature an indoor heated swimming pool for some post-activity relaxing. Or for a more rustic experience, check out the "Farm Stay" experience at Grace Note Farm Inn, adjacent to the George Washington Management Area.