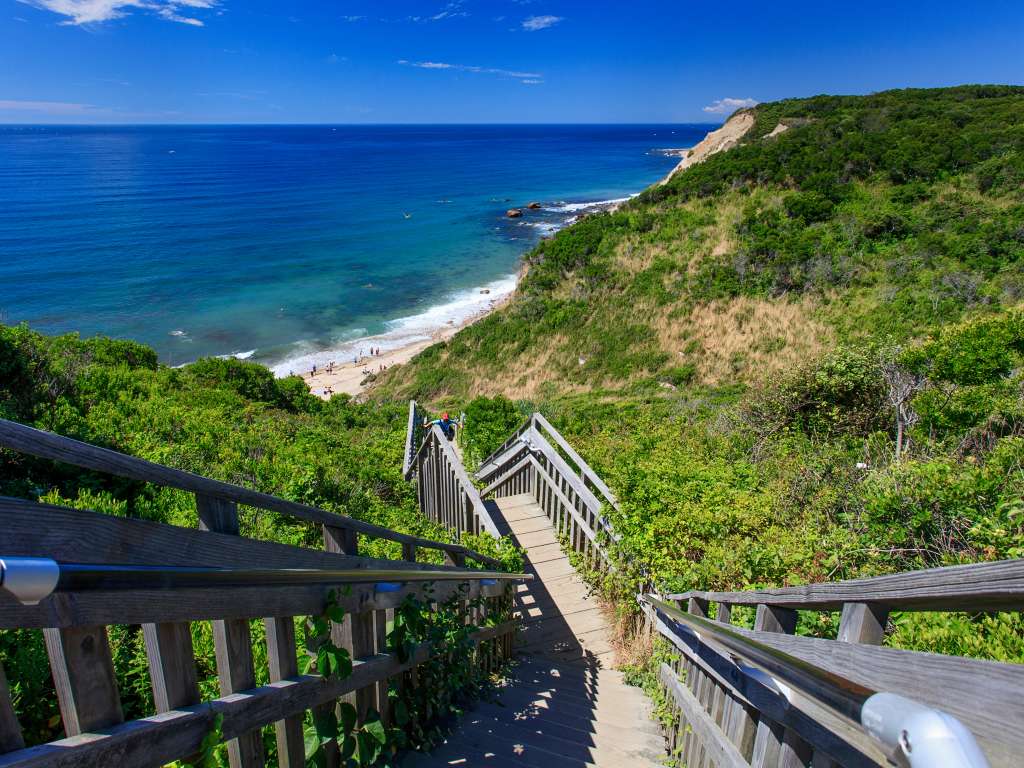 Mohegan Bluffs
Only a half-hour ferry ride from the mainland, Block Island offers the state's premier island lifestyle. This pork chop-shaped destination is an ideal weekend (or longer) getaway for anyone who's looking to spend their time eating good seafood, enjoying the fresh air, and/or searching for the perfect memento. And there are a variety of hotels and inns on the island, so you can relax and spend one night or more in pure island bliss!
Shopping
Get: Block Island-themed clothing, glassware, jewelry, and more from Block Island Trading Company (limited hours in the off-season); beachy fashions and accessories from DiamondBlue Surf Shop; a comfy, coastal-inspired sweatshirt from the Salty Dog (closed in the off-season); classic, bestseller and indie novels from Island Bound; (limited hours in the off-season) unique stone jewelry designs from Blvck Market; gifts for both pets and their humans from Islandog; natural bath and body products from Island Mist (shop online); and handmade artisan yarns from North Light Fibers. For more ways to shop like a local, check out ShopLocalRhodeIsland.com. 
Dining
Try: A stack of strawberry cream-filled pancakes at Bethany's Airport Diner; your favorite lobster dish (the menu features thirteen different options) at Ballard's Beach Resort; some Barbacoa tacos and a local brew at Mohegan Restaurant and Bar; take in breathtaking ocean views from the iconic front porch while enjoying a seafood dinner at the National Hotel Tap & Grille (closed for the off-season); a salumi board at the Barn at the Spring House Hotel; breakfast specials with gorgeous views at Ernie's Old Harbor Restaurant; pulled pork mac 'n cheese at the Poor People's Pub; or experience the eclectic South East Asia inspired menu and unique cocktails at TigerFish.
Activities
Do: Explore the island with a rental from Island Moped and Bike; take to the sky with Block Island Parasail and Water Sports (seasonal); take in the unbeatable views surrounding the Mohegan Bluffs; enjoy some fun in the sun at any one of the island's fantastic beaches, including Ballard's Beach, Mansion Beach and/or Fred Benson Town Beach; stop by and appreciate the artwork on display at the Spring Street Gallery; admire the architectural gem that is Southeast Light (grounds are open year-round, the building is open for visitors in summer). And while you're on the island, don't forget to keep your eyes peeled for the elusive Block Island Glass Floats. This island-wide event is part public art installation and part scavenger hunt. Each float is created by local artist Eben Horton and is numbered and stamped. Along with bragging rights, finders get to keep their custom float and register it with blockislandinfo.com.
Stay
Reserve a stay at the iconic Spring House Hotel and enjoy the spectacular harbor and ocean views, elegant dining, and drinks on the rolling lawn. Perched high on a hill overlooking the ocean since 1852, the Spring House is a Block Island classic. Or check out the Block Island Beach House (reopens in May) for vintage-inspired rooms and direct access to surf & sand. The Darius Inn is across from Crescent Beach and is within walking distance to shops, ferries, and dining, and offers some pet-friendly rooms. And the 1661 Inn is kid-friendly and has spacious rooms and ocean views with an onsite farm & aviary featuring a menagerie of interesting animals.