Relax Indoors & Out
If you're coming to Rhode Island this April hoping to relax and get some fresh air, you're in luck. There's plenty to do in the Ocean State whether you're looking for full-on outdoorsy fun or more of a shopping stroll kind of experience.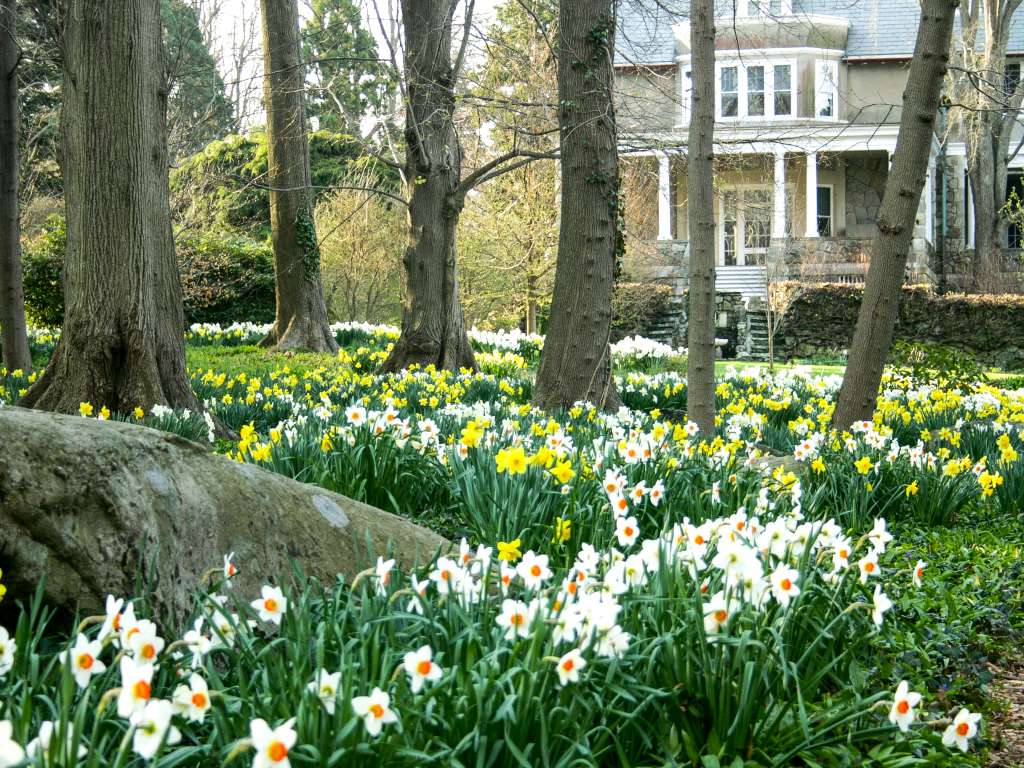 Blithewold
Newport County
You can then head over the Mount Hope Bridge to Newport and celebrate Newport Daffodil Days! If you're peckish you can have a wonderful lunch with a side of great views at 22 Bowens Wine Bar & Grill or try Pour Judgement, which is equal parts "little hole-in-the-wall neighborhood bar" and excellent lunch, dinner, brunch, and late-night restaurant. Another great brunch spot in the area is Caleb & Broad, which has a decidedly funky vibe. While in Newport, you'll definitely want to stroll a bit (or all) of the Cliff Walk for some amazing views of the rugged coastline on one side and swanky mansions on the other. Then tour Marble House, one of those swanky (aka Gilded Age) mansions, because you really have to see the out-of-this-world lavishness to believe it. For a very Vanderbilt way to see all the City by the Sea has to offer, book an outing with Classic Car Tours or experience Newport with Experience Rhode Island Tours. Or take a "healing journey" at Spa Fjor at Hotel Viking for some out-of-this-world and globally inspired spa services. Complete your day in Newport with an upscale dining experience at The Grill at Forty 1 North, where dockside harbor views and locally sourced dishes are on the menu.
South County
From Newport, you can reach South County in roughly forty minutes, and it's worth the trip. Explore charming Wickford Village on your own or on a historic walking tour and grab some fantastic fish tacos at Wickford on the Water. South County is full of relaxing and scenic outdoor spaces from beaches, management areas to nature preserves and wildlife refuges. If you're into hiking or nature walking, try the 2.5-mile loop trail at Trustom Pond National Wildlife Refuge and count on wildflowers and great birdwatching. If you're looking to shop, check out the eclectic offerings at the Fantastic Umbrella Factory in Charlestown (and spend a zen moment in the bamboo forest). On the weekends in Charlestown, you can also browse the General Stanton Inn Flea Market for some fabulous finds. If you want to continue south, you can check out downtown Westerly and grab yummy pretzels, craft beer, and more at The Malted Barley. Plan your visit on a Sunday and you'll enjoy Sunday Funday, an open street event with local shops, music, art, and more. If beer isn't your thing, how about a visit to Langworthy Farm Winery?  For an amazing (and romantic!) culinary experience in South County, you'll love Coast Guard House. Delicious food, water views and you can enjoy candlelight dining.